AS STUDENT / EXHIBITION / UCIFEST
AS STUDENT / EXHIBITION / ALMANAC
Ucifest
Ucifest
This short film festival has been held by UMN every year since 2010, with UMN students as the organizers. In 2016, the Film Festival: Theory & Practice course was born, taught by film festival practitioner Sri Ratna Setiawati S.Sos, M.Sn. This course implements UCIFEST as part of his lecture practice. From several students who have taken this course and become Student Assistants, the Festival Buddies was formed to help students who take this class carry out the festival.
UCIFEST is a film festival with the main programs being the Fiction, Animation, and Documentary Film Competition for the Student category and the Fiction and Animation Film Competition for the National Student category. In addition to holding film screenings, various UCIFEST programs that have been held include non-competitive film screenings, discussions, seminars, workshops, to the Pitching Forum. In addition, in order to raise funds to support the festival, UCIFEST also produces and sells festival merchandise.
During the COVID-19 pandemic, for the last three years, UCIFEST has been held online. This changes the operational aspects of UCIFEST's Organizational Structure, such as Venue & Security, Front Desk & Usher, Transportation, Online Platform, and Ticketing. Although the preparation of the festival is online, the festival will still take place offline for some committee members to broadcast and present the program online. At UCIFEST 13, which took place from 10-13 May 2022, the festival focused on films that raised social criticism and featured a metaverse-themed festival face design.
UCIFEST 13 appreciates the works of short films that are screened as an effort to attract public attention to increasing creativity in making films that can advance the film industry in Indonesia. In addition to carrying out the vision to produce a film award event, UCIFEST 13 also offers viewers a new perspective on social issues by watching films that have inspired young Indonesian filmmakers.
Writing about social issues from a filmmaker's point of view.
Provide opportunities for young filmmakers to market their films in film festivals at the student/college level.
Hold competitions and awards to appreciate student films.
Improving the quality of films made by young Indonesians by holding discussion programs, workshops, and seminars.
Organizational Structure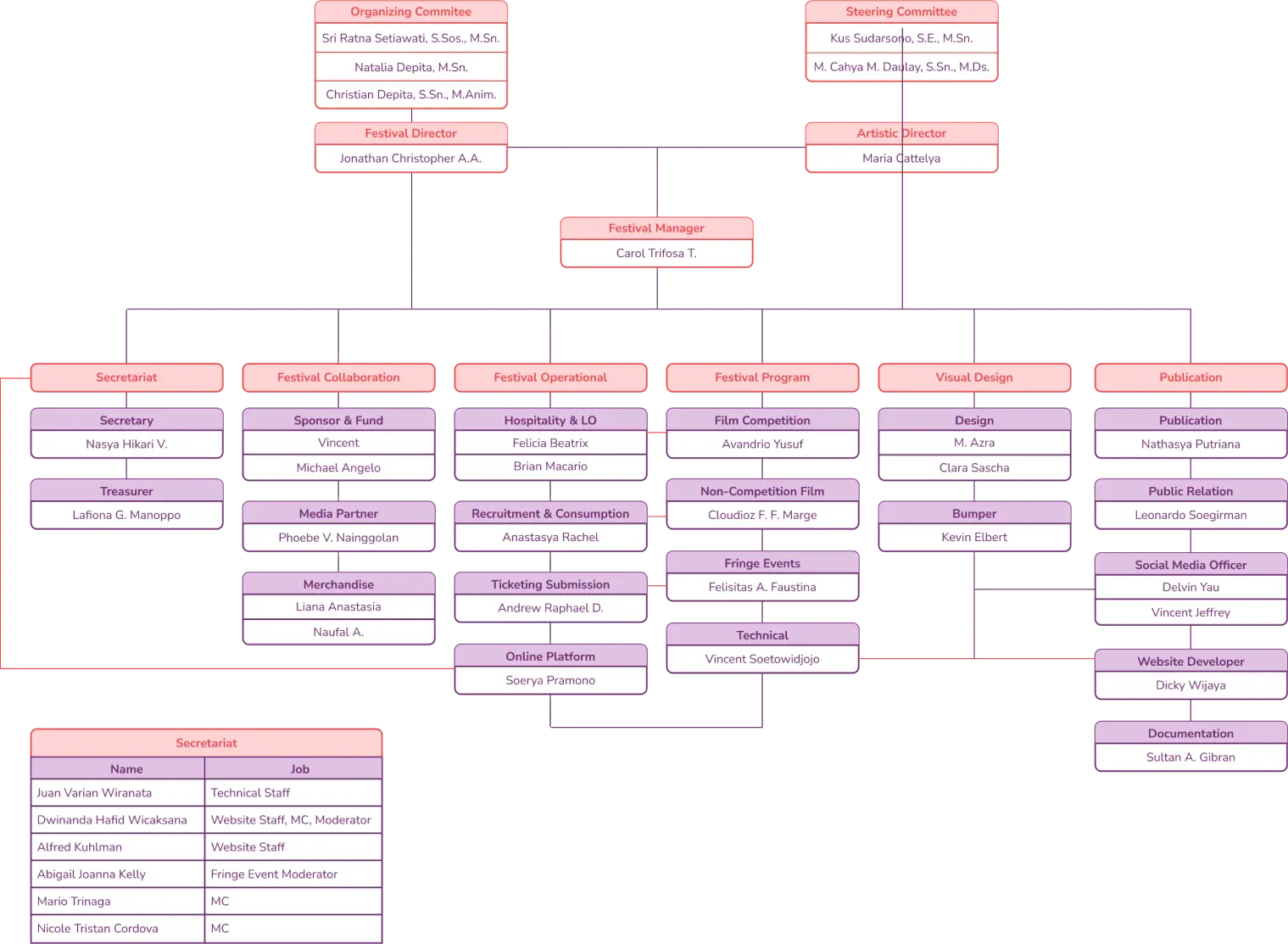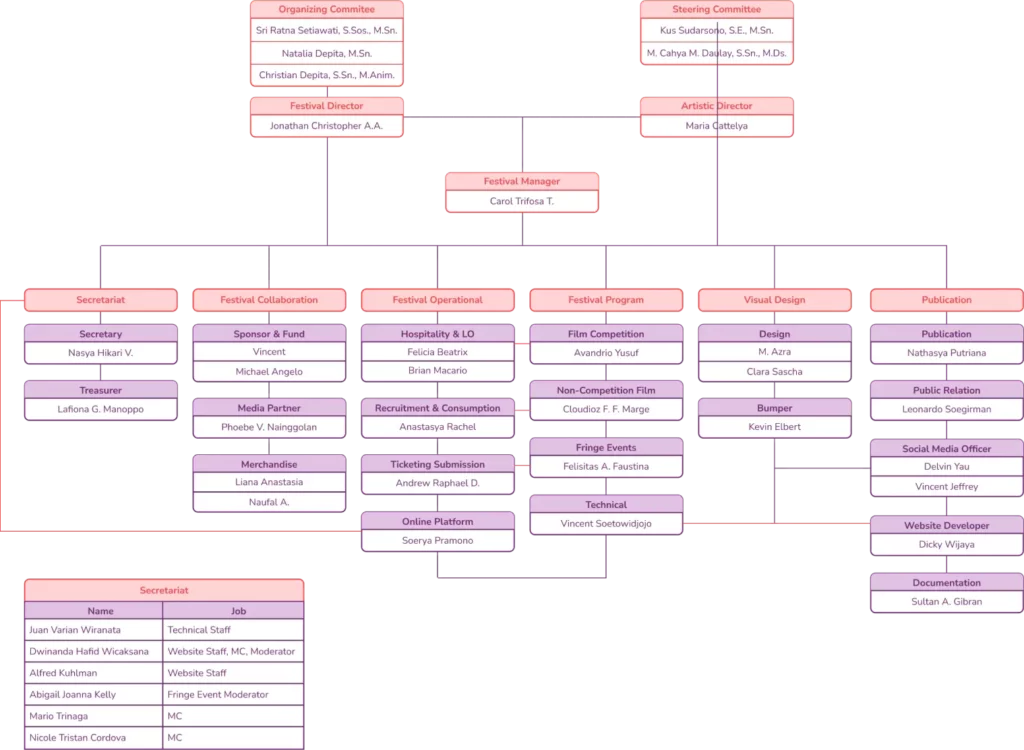 Work Program
UCIFEST 13 holds competitive and non-competitive film screenings, panel discussions, talk shows, workshops, international seminars, and screenings of animated feature-length films. This event trains the skills of students and students in Indonesia through participation in the UCIFEST 13 competition session, in addition to increasing public knowledge.
Contact
Instagram: @ucifestumn
Twitter: @ucifestumn
YouTube: UCIFEST 13
Almanac
Almanac
ALMANAC is an annual gathering, workshop, and screening of the best animation works of UMN Animation students. It is hoped that by showing the best animation works, animation students are motivated to develop soft and hard skills. The soft skills in question include: developing creativity, critical thinking skills, and the ability to create exciting and original story concepts. Meanwhile, hard skills are being able to know, learn, and apply the techniques and applications used in the animation industry. ALMANAC 3 also provides inter-generational students and animation lecturers opportunities to share experiences and build relationships to help students improve their lectures.
ALMANAC 3 carries the theme "Metaverse & NFT" with the tagline "To Travel, To Explore, To Discover" and takes three main series of events, namely screening and awarding, workshop, and animingle. ALMANAC 3 is run in a hybrid manner, in person or online via Zoom. Seeing and adapting to the unfinished condition of the COVID-19 Pandemic, ALMANAC 3 will be implemented in a hybrid form.
Realizing the SDGs or Sustainable Development Goals in two aspects, namely improving the quality of education (quality education) and helping students interested in animation make connections and collaborate to create a joint work (partnership for the goals).
Carrying out an animation screening of the best works of Multimedia Nusantara University students as a form of appreciation

Running Animingle (gathering) to strengthen the relationship between students and lecturers

Increase students' knowledge and insight by holding workshops from various animation studios in Indonesia
Organizational Structure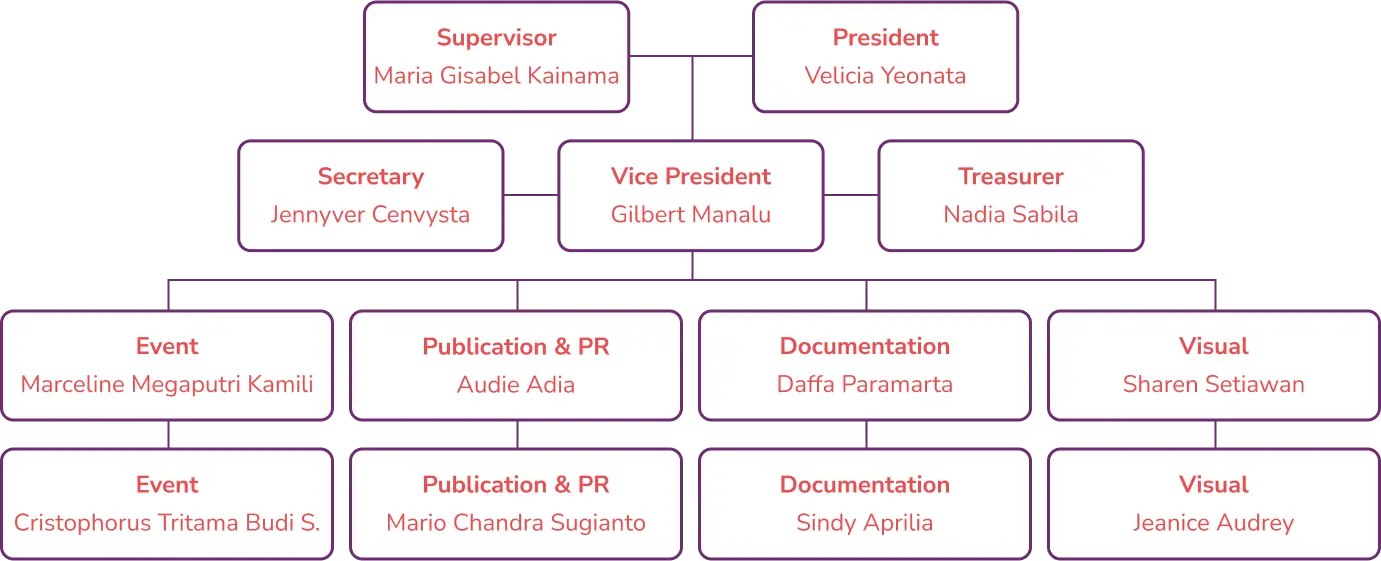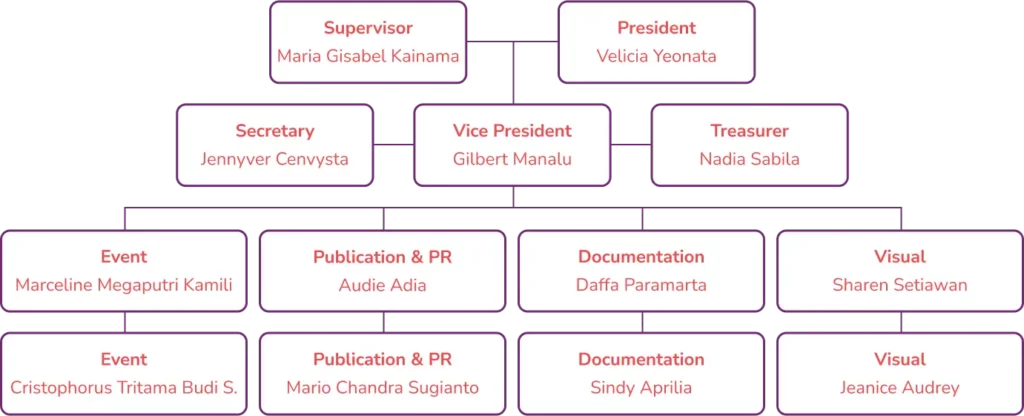 Work Program
Screening & Awarding
Screening & Awarding is the main event in the Almanac which is held internally to show all the works of UMN animation students from various generations.
Workshop
Workshop is an event for sharing knowledge from experts and well-known studios with UMN students. This event also provides opportunities for students to deepen their interests according to their respective fields.
Animigle
Animingle is a bonding event between all UMN students and resource persons, invited guests of the Almanac, and UMN lecturers.